IT service management providers have a lot on their plate—from dealing with customer problems to figuring out the best way to deliver their services, there are many aspects to running a successful service business. How do you ensure that your services are topnotch and...
A service management process is a framework that outlines best practices for companies that deliver services to their customers. The importance of service management cannot be overstated: this practice helps you create the appropriate mix of people, processes, and...
There are 5 stages of the Information Technology Infrastructure Library (ITIL) service lifecycle: strategy, design, transition, operation, and service improvement. These ITIL service management processes drive success for many teams in IT service management and...
Some of the most-well known and prominent cycles in life have 5 stages. The cell cycle, the grief cycle, even puberty break up into 5 phases. Today, we are adding another item to that list by discussing the ITIL service lifecycle. The service lifecycle, also...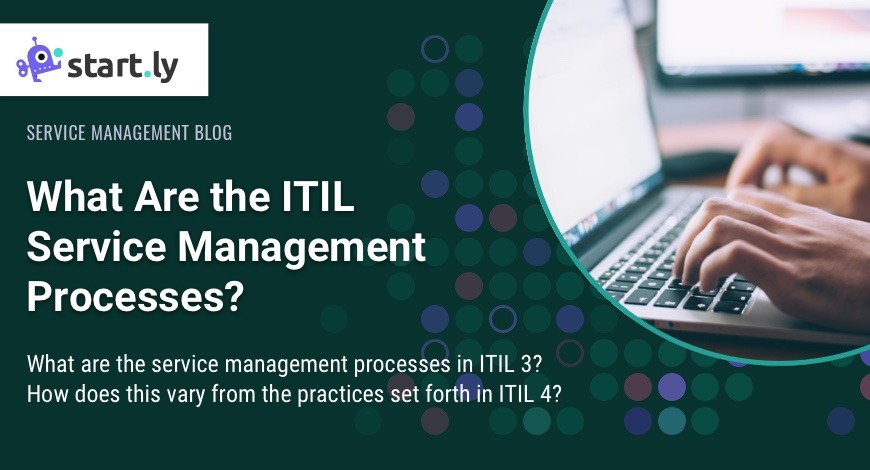 In IT service management (ITSM) there is perhaps no more well-known framework than the ITIL. Originally created back in the 1980s, the Information Technology Infrastructure Library (ITIL) provides ITSM teams with a customer-centric approach to IT service management,...
Certain business functions and processes are considered mission-critical, from basic IT help desk roles and responsibilities to tracking time and expenses, IT service management systems, organizational governance, and more. In many organizations, individuals or teams...
Working in IT service management (ITSM) means having a full workload every day. From resolving an array of customer issues to configuring the best way to deliver IT services, the job of the ITSM team is never done. One way to help ease the workflow is to use a service...
Behind any good IT service management is a solid ​​service management framework, which provides the guidelines and structure for managing and supporting IT services. Developing a deeper understanding of service management frameworks, the involved processes, and the...
Increased efficiency, more capable technology, and greater customer satisfaction - every IT service provider wants results like this. But how? What if we told you implementing the right service process model can deliver all of these perks and more? Implementing IT...
Many companies have felt the frustration of having too many platforms for service management. And the more unique a business may strive to be, the more they may find themselves spread across multiple professional and IT service management solutions, stringing together...
IT service management (otherwise known as ITSM) is growing rapidly. Already a popular industry, the need for top-tier service management has only expanded as remote and hybrid work policies have become part of a new normal. As the need for ITSM increases, so too does...
You probably learned in a high school business class, accounting, or even economics that in business there are two main categories for what you sell…products or services. As you grow up and begin working, you realize that in many instances, a company can sell both...
According to the Information Technology Infrastructure Library (ITIL), a service is "a means of delivering value to customers by facilitating outcomes customers want to achieve, but without the ownership of specific costs and risks."  Put more simply, a service is a...
Every IT service provider strives for increased efficiency, improved customer satisfaction, and enhanced product capabilities. So how do they accomplish these goals? One of the best ways is by implementing IT service management (ITSM) frameworks and practices. ...
IT teams are busy. Really busy. And as their to-do lists continue to grow, they'll need all the help they can get. And that's where IT service management (ITSM) comes in. At its core, ITSM is designed to streamline processes and procedures associated with all aspects...
It's safe to say that the demand for IT service management is growing. As organizations define long-term hybrid or remote work policies, the need for robust, top-tier IT service management has increased exponentially. With more demand than ever, IT service management...
When it comes to IT service management (ITSM), there's one goal in mind: efficiency. Because of their ability to streamline workflows and the management and delivery of IT services, ITSM tools are becoming increasingly popular. ITSM is a million dollar industry and is...
Try Startly Now For Free!
Are you interested in trying out Startly? Click on the button below and 10 users can use Startly for FREE! No credit card needed.
Get updates on product news, insights, and tips straight to your email.